The Beauty of Uncertainty is a beautiful and mysterious work of art. It depicts a woman standing in front of a group of people looking at a castle in the fog. The woman is wearing a white dress and a blue hat, and she is standing in front of a group of people looking at a castle in the fog. The painting is very well-composed and the colors are vibrant.
The woman in the painting is the focal point of the image. She is standing in the foreground, and her white dress and blue hat stand out against the muted colors of the background. Her pose is relaxed and confident, and she seems to be looking at the castle with curiosity or wonder.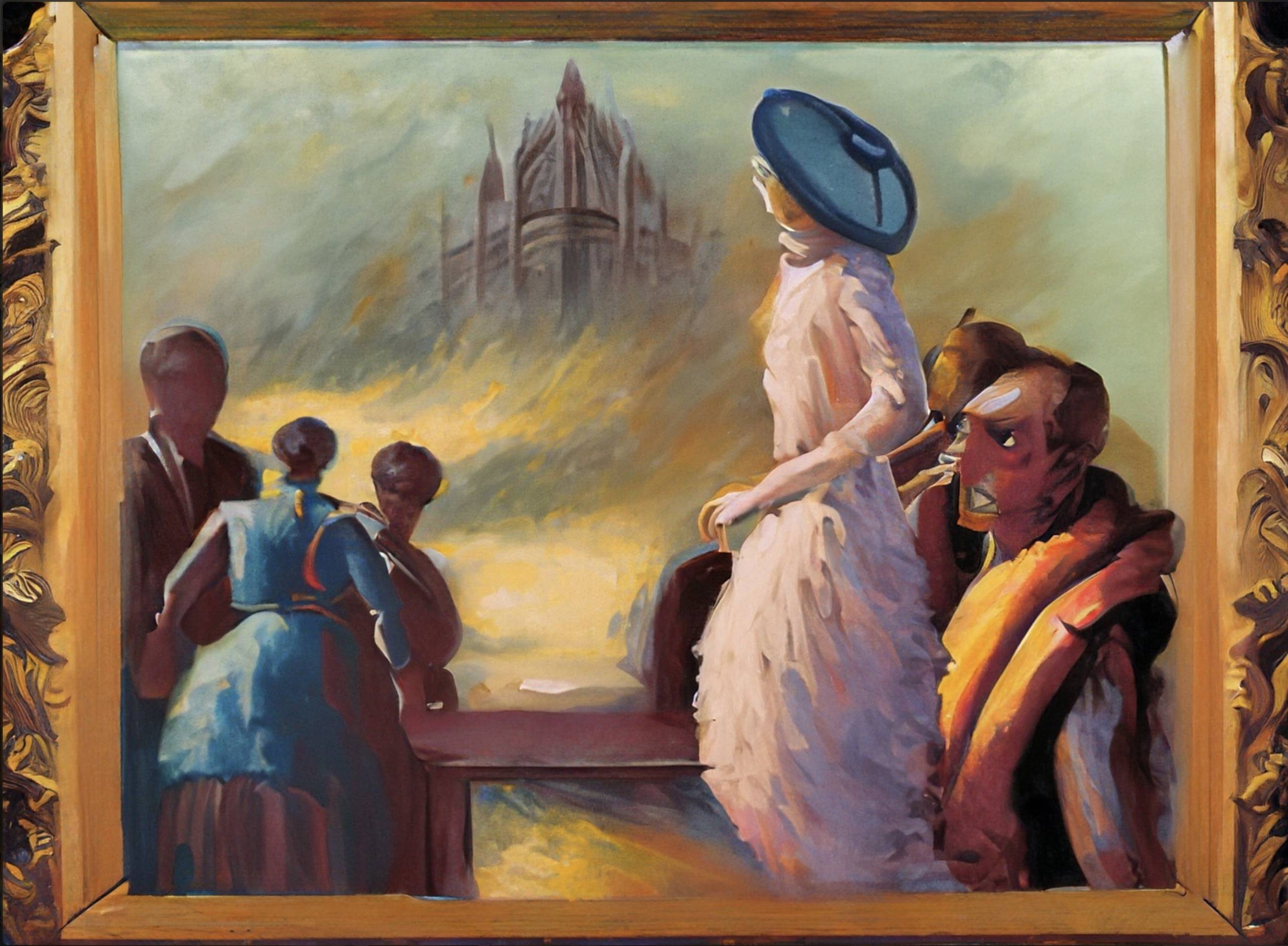 The group of people behind the woman are also interesting to look at. They are all dressed in different colors and styles, and they seem to be from different social classes. This suggests that the painting is a depiction of a diverse community.
The castle in the background is shrouded in fog, making it difficult to see its details. However, its imposing size and dark color suggest that it is a place of mystery and power. The fog also creates a sense of atmosphere and suspense, making the viewer wonder what secrets the castle holds.
The painting is full of symbolism and meaning. The woman could represent hope or possibility, while the castle could represent the past or the future. The group of people could represent different aspects of society, or they could simply be bystanders. The fog could represent uncertainty or mystery.
Ultimately, the meaning of the painting is up to the viewer to interpret. However, there is no doubt that it is a beautiful and thought-provoking work of art.
Here are some additional thoughts on the painting:
The woman's pose and expression suggest that she is a strong and independent individual. She is not afraid to stand out from the crowd, and she is not afraid to look at the castle, even though it is shrouded in fog.
The group of people behind the woman represent the different people who make up a community. They are all different, but they are all united by their curiosity about the castle.
The castle is a symbol of mystery and power. It is a place that is both alluring and dangerous. The fog around the castle adds to its mystery and makes it even more intriguing.
The painting is a reminder that there is always something new to discover, even in the midst of uncertainty. It is also a reminder that we are all part of a community, and that we should be open to learning from each other.